---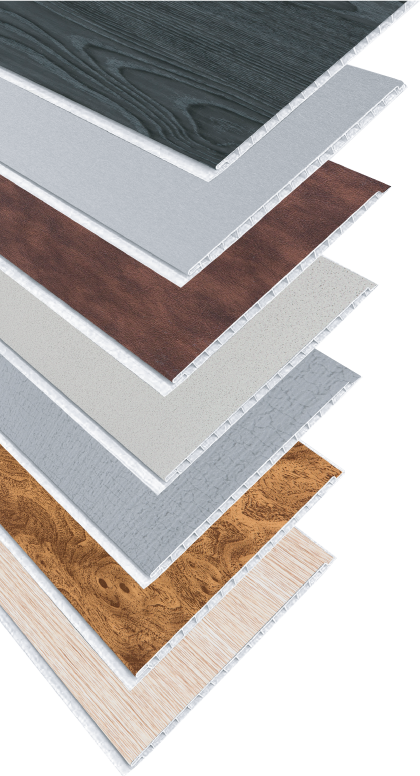 Ceiling Panel Information
CEILIN Planks are designed for trimming Indoor and outdoor walls and ceilings. Our wide range of finishes (such as marble, granite, a variety of wood finishes, aluminum, stainless steel, metallic finishes, Venetian plaster) and sizes give our clients limitless design opportunities. Out Tongue and Groove interlocking system and hidden fasteners gives a clean, smooth, and seamless finish to your walls and ceilings.
Features
Bright with a clean appearance
Extremely smooth
Lightweight
Sound resistant
Fast easy installation
Non-flammable / self fire extinguishing
Low maintenance, durable, mildew resistant
Durable, Mildew Resistant
Will not rust, rot or warp
Available in various designs and finishes
Moisture proof
NEVER A PAIN AGAIN
Sizes and Trims
We offer a variety of trims for your needs, including, but not limited to J-Trims, H-Trims, IC-Trim, ICJ-Trim, L-Trim. Our planks are sized at 9-7/8″ x 18′ | 11-3/4″ x 18′ | 14-3/4″ x 18″. Custom sizes can made to suit your needs.
Applications
CeilIN Planks are applicable to commercial and residential venues. Our commercial applications include hotels, medical offices, restaurants, schools, commercial buildings, retail stores, hospitals, commercial kitchens, car washes, supermarkets, food processing industries, agricultural buildings, swimming pools, and much more!
Our residential applications include patios, roof overhangs, BBQ area covers, kitchens, living rooms, dining rooms, entry ways, bedrooms, restrooms, shower garages and overall indoor/outdoor decors.
---
   Our Finishes
    We can provide many types of finishes to our products, including marble, granite, wood, aluminum, stainless steel, metallic finishes, venetial plaster, and more! We can provide     custom finishes if requested. If you need a custom finish, please contact us to request more information.
---
---